Evolving market dynamics are leading to volatility in supply chains, hampering global operations. Executives are grappling with strategic question – is my supply chain framework aligned for the next to 3 to 5 years of business growth? Do I have the right number and locations for existing distribution centers? Will we be able to improve supply chain efficiency and service levels?
Clients partner with ITC Infotech to address pertinent supply chain challenges through our network design and optimization services – helping businesses strategically plan and design supply chain frameworks and policies to reduce overall all costs and improve service levels.
ITC Infotech's Digitaligent Supply Chain Design & Optimization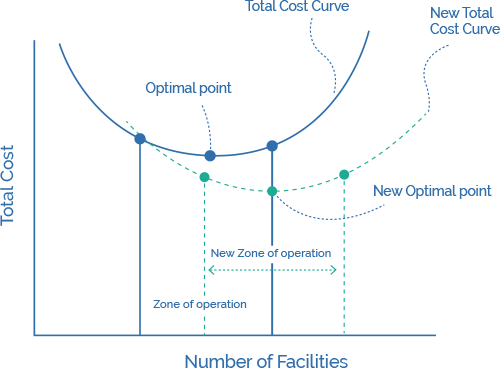 Businesses with expanding operations require supply chains designed to handle their growth plans. Complex scenarios have to be evaluated and analyzed to arrive at crucial and timely decisions:
Analyze the product flow and stocking policies in the existing supply chain and identify areas to improve supply chain efficiency
Improve customer service levels to better serve customers
Reduce inventory level and stock outs in the supply chain
Reduce last mile transportation cost and improve utilization of transportation assets
Network Design & Optimization
Network Design & Optimization is a decision support system that helps organizations design, build and analyze their supply chain to reduce cost and improve service levels. End-to-end supply chain cost and constraints can be modeled to understand the tradeoff that exists in the supply chain.
Strategic Interventions
Resource acquisition and divestment decision
Capital investment decision
Open and close facility decision
Post merger & acquisition rationalization
Strategic sourcing decision
Realignment decision
Omni Channel Fulfillment
Operational Actions
Improving operational efficiencies
Flow Path analysis
Rough cut capacity planning
Risk analysis and contingency planning
Cost Vs. Service trade-offs
Tactical Initiatives
Operating policies
Cost to serve optimization
Landed cost optimization
Hub Optimization
Product mix allocation decision for manufacturing facilities
Policies decision related to inventory, distribution and sourcing
Inventory Optimization
To reduce inventory stock outs and loss in sales, it is important to define the right inventory norms and policies. Reducing inventory across the supply chain has significant impact on reducing working capital requirements. The right inventory norms can be designed by creating in-depth understanding of customer buying behavior and factors contributing to supply side variability. ITC Infotech's solution for inventory optimization includes:
Multi-echelon Inventory Optimization
Define inventory level for safety stock, cycle stock and pre-build inventory
Simulation
Validate inventory norms for set service levels
Service-level Optimization
Identify right service levels for SKUs to meet overall objective of service level
Route Optimization
Design routes to reduce transportation cost for last mile, optimize mix and modes of transportation while considering cost and constraints. Our route optimization solution includes:
Periodic Shipment Balancing and Scheduling
Creates routes using daily shipment data to balance and schedule deliveries and pickups across a time period. This enables determining a schedule for multi-stop vehicle routes to minimize costs while adhering to delivery frequency and scheduling requirements.
Continuous Moves Interleaved Shipments
Determines interleaved pick-ups and drop-offs within cohesive routes while considering right-sizing the fleet and mode selection.
Fleet Optimization
Identifies the optimal fleet size and mix of assets based on cost in order to right-size the fleet and determine optimal number and location of assets.
Hub Optimization
Solves hub selection problems by determining right number and locations of hub required for consolidation of shipment in order to reduce overall transportation cost, while meeting service level constraints.
Our comprehensive Supply Chain Design & Optimization services and solutions also cover:
Consulting: Recommendations on supply chain framework considering long term projections. We also diagnose existing supply chain network to suggest efficiency improvement areas
Managed Services: Setting up a hybrid development model to build new supply chain models and support existing or new models for regular plan run
Center of Excellence (CoE): Helping clients build CoE for supply chain design which includes selection of solution platform, establishing processes and setting up teams for delivering results related to supply chain design and optimization
Our extensive experience in offering Supply Chain solutions to companies across industries includes:
Delivered supply chain design and inventory optimization engagements using Llamasoft Supply Chain solution platform for Manufacturing, Optical lenses, CPG and E-commerce industry
Designed supply chain for a leading optical manufacturing company, for 2020, which included greenfield analysis to identify locations for distribution centers, define product flow in the supply chain and defining sourcing and distribution policies
Tactical planning for one of India's largest CPG company: Our solution included deciding on product mix for a manufacturing plant, pre-build inventory strategy and decision related to distribution lanes and sourcing of raw material and packaging material from suppliers
Raw Materials (RM) and Finished Goods (FG) Inventory optimization for a leading label and packaging material manufacturing company which involved detailed demand analysis to understand customer buying behavior, identifying and analyzing key supply variability parameters, defining and validating inventory norms and policies using simulation based approach
Reduced transportation cost by identifying the right number and location of hubs to consolidate LTL shipments, while meeting defined service level constraints
Overall supply chain cost optimization
Improvement in customer service level
Reduction in inventory days of stock
Reduction of last mile delivery cost and improvement in asset utilization
Enhanced supply chain decision-making power, with reduced time and effort
Enhanced risk management and contingency planning
Get a personalised solution
Get a customised customer experience solution for your business.
Sign up for a free consultation with our expert.
[]
keyboard_arrow_leftPrevious
Nextkeyboard_arrow_right