With demand and supply synchronization becoming increasingly crucial to supply chain management success, businesses are increasingly focusing on optimizing inventory cost, better resource utilization and customer service levels.
Clients across industries partner with ITC Infotech to create an integrated planning and managed services for a holistic supply chain solution. We start with analyzing existing processes and offer a host of supply chain planning and efficiency services that include gauging business-IT alignment along with business expectations and recommending necessary interventions to address the gaps in process design, tool selection and implementation, KPI identification, policy formulations, automation, etc.
ITC Infotech's re-design and implementation support to a global agricultural commodity trading giant transformed their customer service. With our end-to-end supply chain management capabilities, we have also designed and integrated planning tools for a leading paper manufacturer and improved their On Time in Full (OTIF) and Order Delivery Lead Time (ODLT).
Integrated Supply Chain Planning Powered By ITC Infotech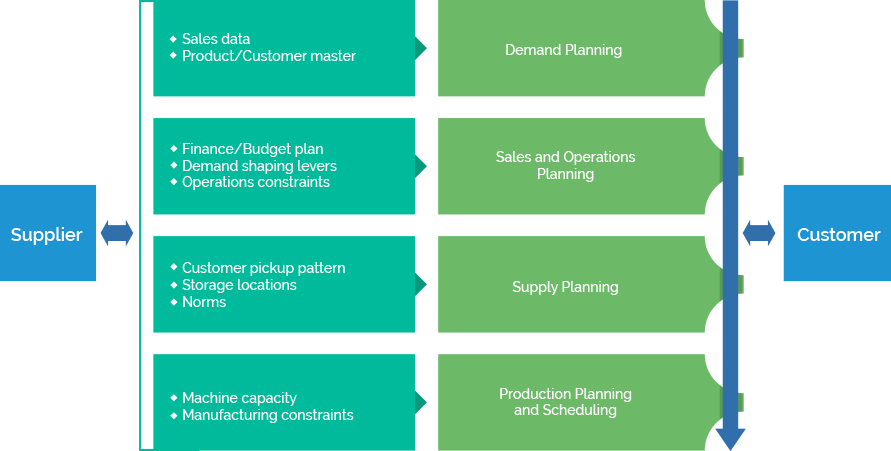 With increasing number of products, shrinking time to market and constantly increasing competition, companies are under tremendous pressure to improve planning efficiencies and resource utilization, while optimizing costs. This is coupled with additional challenges of cross functional alignment, demand & supply volatility and supply chain visibility.
With inherent complexities in the planning process and the huge amount of data it handles, it is important that along with processes, clients keep an eye on enablement through systems and IT tools to make the solution robust and scalable.
Integrated Planning
ITC Infotech's integrated planning solution helps clients establish and re-design their overall supply chain planning process. We also help clients co-ordinate with various components of integrated planning, including demand planning, sales & operations planning, production planning & scheduling and supply planning.
Managed Services
Our Managed services leverage cost efficiencies and add agility to our clients' supply chain by managing their processes centrally. We help our clients in managing various supply chain planning processes, strategic initiatives and continuous KPI monitoring.
Improvements in customer service delivery KPI's: On-Time-in-Full and order delivery lead time
Overall supply chain planning process improvements leading to better forecasting process, reduction in RM, WIP and FG inventory and reduction in manufacturing lead time with improved production planning and scheduling
More accurate planning in lesser time: Automation of planning logic using macros and other IT tools enabling planners to spend more time on other process improvement activities
Get a personalised solution
Get a customised customer experience solution for your business.
Sign up for a free consultation with our expert.
[]
keyboard_arrow_leftPrevious
Nextkeyboard_arrow_right