With increasingly demanding and discerning customers, the hospitality industry is faced with the uphill task of delivering exceptional customer experiences across channels in the face of increasing competition from new entrants.
Leading hospitality companies are partnering with ITC Infotech to better understand their guests by anticipating the needs of guests at each level of their service. ITC Infotech's solution facilitates hospitality associates to deliver precise and swift service to hotel guests.
Most hotels store large amounts of data – such as guest preferences and history in property management systems. Our solution leverages this generally underutilized data to drastically improve the guest experience factor by enabling dynamic interactions and predictive service between hotel and guests. This 'all under one roof' app enables patrons to access a range of services found in the hotel unit alongside information on their loyalty program.
Through our solution, hotels are able to leverage the tremendous potential of advanced technologies – like RFID, Wi-Fi, location-based system (LBS) and mobility – interfaced and integrated with enterprise systems like PMS, BMS, ERP and CRM, to deliver higher level of customer satisfaction while automating the hotel's operations.
Delighting Customers The Itc Infotech Way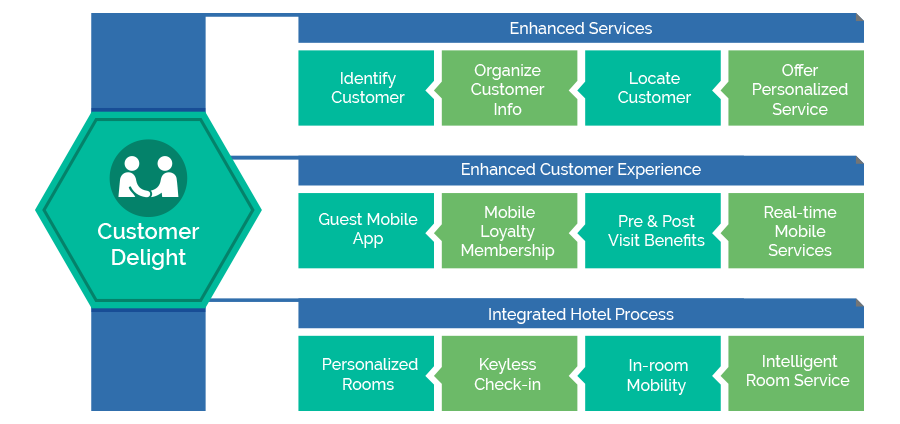 To scale up service level, hotels must adopt next-gen technologies to streamline service processes and methodically categorize patrons' preferential data. The hospitality industry needs a centralized communication and property management solution catering to their hotel chains across geographies.
Fetch information from the hotel property management system to provide guest recognition and information functionality
Derive insights from the customer's loyalty reward information on a real-time basis without outlet or personnel-based intervention
Real-time feedback module to establish direct communication between patrons and hotel management for instantaneous problem resolution and constructive feedback
Know each patron's preferences on a daily basis during their course of stay at the hotel
Securely update information during special occasions such as birthdays or anniversaries in order to deliver customer delight
ITC Infotech's Guest Services app enables instant services like welcome messages and zone identification on the guest's mobile device – control for in-room features and devices, hotel map for directions, on-mobile concierge desk, restaurants along with order history, outside-the-door view and remote door-opening features. Our solution also associates guests' requests alongside recognizing their presence in various zones of the hotel unobtrusively. Together, the apps help establish a window of constant interaction between a patron and an associate by:
Instantaneous guest recognition
e-communication between the guest and associate for all room services
Smart housekeeping through guest-presence monitoring
Mobile and desktop-based messaging and guest-info forwarding between associates
Instant SMS and e-mail notification capabilities
Management of employee distribution inside the hotel
Real-time guest information availability
Updated and customized information on patron's preferences
Attentive and recognition-based service to patrons
Enhances guest experience and delivers higher level of customer satisfaction by delighting them
Alerts and notifications
Facilitation of feedback access to patrons which creates more interactive communication
Provision of patron's loyalty program details
Back-end data analytics
Get a personalised solution
Get a customised customer experience solution for your business.
Sign up for a free consultation with our expert.
[]
keyboard_arrow_leftPrevious
Nextkeyboard_arrow_right