Recent digital gravitation in the banking industry is threatening the historically-stable traditional channels – a trend reflected in the challenges facing many high street banks.
Digital service offerings have become the norm in the mobile-first, customer-first dynamic. Cloud orchestration of basic end-to-end delivery processes is the imminent need for banks to maximize the value of existing infrastructure investments, harness the efficiencies of digital processes and leverage the potential of cloud.
Digital Customer Centricity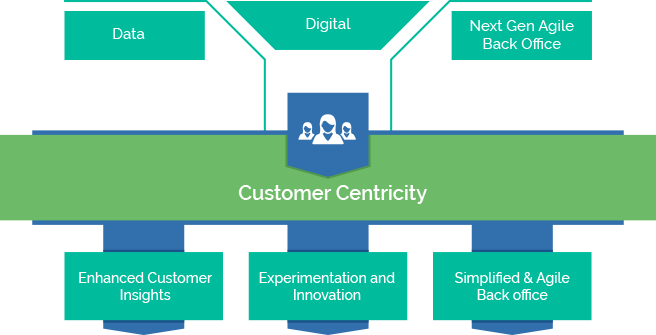 In today's world of stringent regulations and alarming market uncertainty, there is a growing need for a fully integrated digital and mobile offering where customers can carry out the entire gamut of banking activities from across channels. This is occurring at a time when banks choosing to go digital require robust and reliable real-time DevOps.
Customer retention in an ultra-competitive market characterized by increased disintermediation
Need to increase the wallet share per customer
Need to improve conversion rates and ROI on marketing
Improvement of CX across all touch points
Inability to understand customer behavior, value and performance across segments
Need to differentiate services and products in a highly commoditized market
As a transformation partner to banks, ITC Infotech's Digital Bank solution has become a front-runner in using digital technology to aid customer journeys. It can transform the bank into a digital bank, leveraging cognitive analytics and digital engagement to uncover new insights and improve customer engagement. It ploughs back the data that digital devices throw out and uses it to craft an experience that help leading financial institutions acquire and retain customers.
Transformational customer experience for sustained competitive advantage
Engage, listen and nurture relationships with consumers
Internal and external integration
Be integrated both internally and externally, across operational components and functions
Accelerating innovation
Build innovative business models by leveraging ITC Infotech's in-house capabilities and creating new non-price-based value propositions that disrupt incumbents not based on reach, but based on efficacy
Collaboration
Embrace collaboration and partnerships within banking ecosystems to explore new opportunities
Get a personalised solution
Get a customised customer experience solution for your business.
Sign up for a free consultation with our expert.
keyboard_arrow_leftPrevious
Nextkeyboard_arrow_right