The explosive growth of digital data has opened up new avenues for growth – actionable insights from varied information sources can be analyzed using sophisticated algorithms & analytics to create a clear, sustained competitive advantage. The key lies in processing data better, faster and cheaper.
Banks today have amassed a wealth of data from which they can create personalized services and construct contextualized experiences for their customers. However, combining internal information sources with external data flows remains a challenge for most banks.
Big Data – Value Creation Pipeline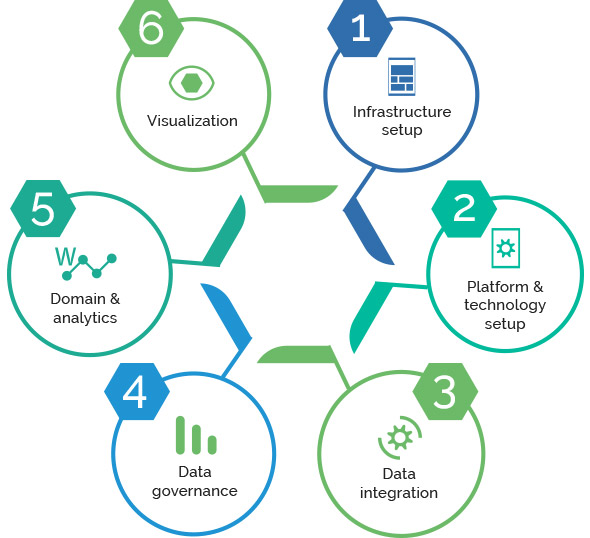 Data and specialized Data Sciences can enable hyper-targeted marketing, optimized transaction processing and personalized wealth management advice – improving every aspect of banking. However, to fully unleash the power of Big Data across the enterprise, banks will first need to overcome internal challenges of disparate legacy systems.
Inability to leverage volumes of data, quickly and with more certainty
Absence of consistent master data, enterprise information and systems
Need for greater precision in the prediction process
Lack of enterprise view
Low data quality
Usage of disparate technologies for implementing identical processes in different departments
Lack of centralized metadata management
Data security issues
Lack of governance and ownership of data assets
Privacy, legal and regulatory compliance
Accelerate your bank's growth with our big data offering – designed to collate, process and deliver insights and measurable benefits that add to bottom line.
Advanced analytics, data mining, big data analytics, social analytics and predictive modelling
Canned reports, OLAP cubes, dashboards, scorecard and metrics, and mobile analytics
Our Big Data services for banks undergo a comprehensive series of data journeys:
Infrastructure set-up: Infrastructure choice, sizing, set-up and administration
Platform and technology set-up: Cloudera, Hortonworks, Microsoft, Google, Pivotal, IBM and SAP
Data integration: Data ingestion, storage, quality check, standardization, changing data capture, real-time data, complex event processing and data virtualization
Domain and analytics: Batch analysis (behavior and predictive), interactive analytics, stream analytics and machine learning
Visualization: Data discovery, self-service BI, BI reports and dashboard followed by health check scorecards
Integrated view of customer – provides banks with powerful insights of their customers by combining internal transactional data with external social, web and location data
Customer Value Management – a closed loop analytical process to understand customer segments with a focus on enhancing customer knowledge – driving value creation opportunities
Social media analytics solution – integrated into an existing BI tool or used on a subscription model
Multichannel usage analytics dashboards – insights on channel usage trends and channel usage mix
Multiple big data use cases drive business value – including customer journey analytics, digital acquisition, transaction data mining and contact optimization
Get a personalised solution
Get a customised customer experience solution for your business.
Sign up for a free consultation with our expert.
keyboard_arrow_leftPrevious
Nextkeyboard_arrow_right