The combined edge for Smart Loyalty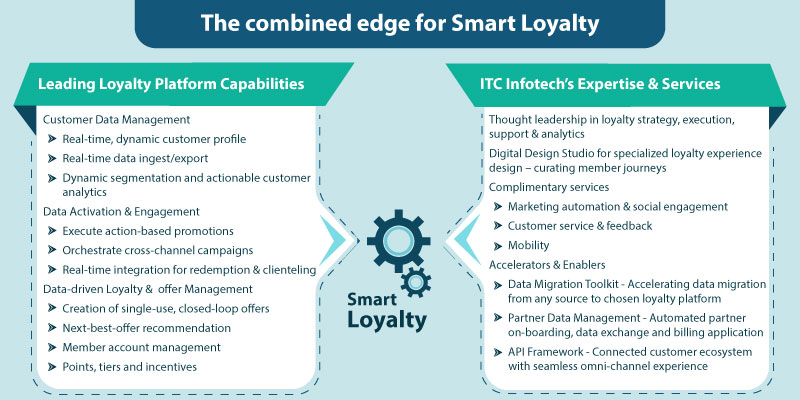 Our offerings are a combination of capabilities powered by intelligent loyalty platforms and our adjacent services. While the platforms allow for real-time customer profiles management, execution of action-based promotions, orchestration of cross-channel campaigns, and next best action recommendations, ITC Infotech's design thinking-led approach enables redefining of customer journeys for meaningful experience creation. Our prebuilt accelerators like data migration kit, partner data management solution, and API toolkits help reduce implementation costs and timelines significantly.
Smart Loyalty Value Proposition
The partnership between leading loyalty platform providers and ITC Infotech brings the best of both worlds together – a world-class platform and a recognized provider of world-class smart loyalty services. Combining the rich features of leading loyalty platform providers with our expertise and accelerators, allows us to reduce the gap between loyalty program vision and execution. Key highlights include – easy adoption to a cloud-based modern smart loyalty platform, simplified integration across all touchpoints, and transforming transactional interactions into personalized engagements.
Recognition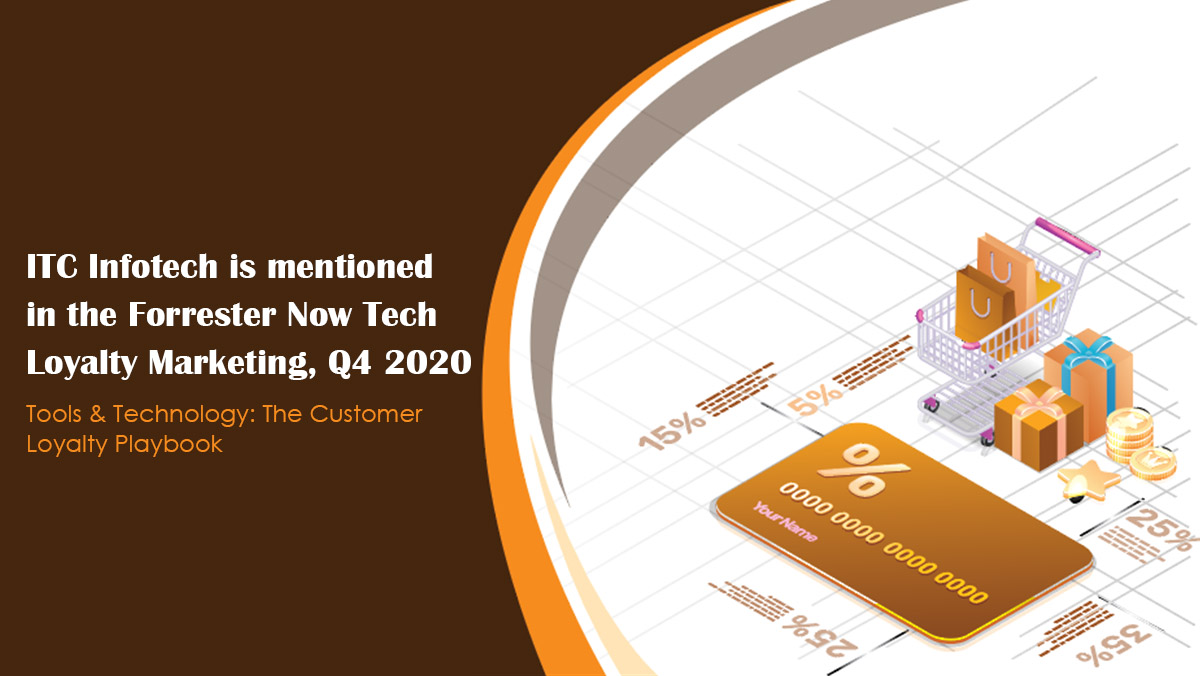 Our smart loyalty offering and capabilities are recognized by Forrester in their Now Tech Loyalty Marketing, Q4 2020 Report.
This report enables B2C marketers to understand the value they can expect from a loyalty marketing provider and to select one based on size and functionality.

SessionM, a MasterCard company, offering comprehensive cloud-based customer engagement and loyalty platform, that has been ranked high by analysts like Gartner and Forrester alike. SessionM powers customer engagement for some of the world's biggest brands and best companies. The platform has a customer data platform at its core, with modules for loyalty, campaign, and offer management interacting seamlessly to provide an effortless E2E customer engagement capability. The intelligent platform also provides built-in rich analytics powered by AI/ML models enabling activation of loyalty members in a contextualized, real-time manner.

ITC Infotech has built a cloud-based enterprise Smart Loyalty solution framework on the trusted, scalable, and matured Salesforce platform. It is a Salesforce Security Review certified solution on AppExchange. The loyalty solution framework is domain agnostic, enabling customers to easily define their industry-specific loyalty layer. The solution comes with ready templates for Hospitality, Travel, Retail, CPG domains for B2B, B2C, and B2E segments. It helps the business become more responsive by quickly configuring and deploying loyalty promotions, measuring their ROI, and improving overall loyalty revenue. The solution comes with ready integrations with Salesforce Sales, Service, Marketing, Community, Commerce, and Einstein Analytics with omnichannel customer enablement
BLOGS
WHITEPAPER
An integral part of Customer Intelligence Platform
With increased focus on customer engagement, acquisition, and retention strategies, loyalty programs are being increasingly looked at as strategic investments in a CMO/Loyalty Leader's arsenal. Though organizations understand the need for a comprehensive loyalty solution ensuring personalized experiences and targeted communication, the key concern remains around identifying the right platform and the right loyalty partner to help them realize their vision.
Smart Loyalty Management is one of the key components of our Customer Intelligence Platform (CIP) solution, which leverages our data-driven intelligent ecosystem at the core, to provide a comprehensive loyalty program ensuring personalized experiences and targeted communication.
To know more about our CIP offering write to us at contact.us@itcinfotech.com
Demo
Check out how we can help you in transforming your business and build an exceptional experience for your customers using our smart loyalty platform.